About Us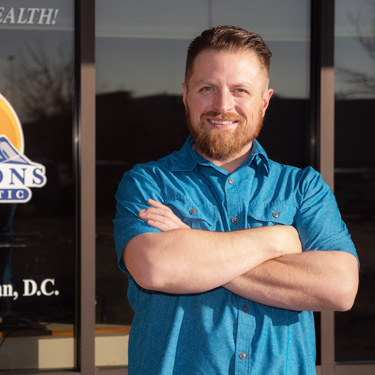 Dr. Jacobe Holman, or Dr. Jake as our practice members know him, has been working as a chiropractor since 2013. Born and raised just a few minutes south of Broomfield, he and his wife Laura knew they wanted to open their business in their home area. Named after the iconic mountain range, Flatirons Family Chiropractic is a natural health care facility for you and your entire family that emphasizes pregnancy and pediatric chiropractic.
Our Mission: Bringing Wellness to Our Community
We're here to educate people about true chiropractic health care. Your well-being isn't based on how you're feeling but instead on how you're functioning. Chiropractic is part of a lifestyle of being well, just like visiting your dentist regularly to prevent teeth decay. We can help you and your entire family achieve levels of health that you may have never even known were possible!
We know that your body has the innate intelligence to heal itself. It can do what it was designed to when your brain and body connection works without any interference. As a chiropractor, Dr. Jake removes this interference so that your body can operate as it is intended to.
Your Children Deserve the Best Health
Dr. Jake has had the privilege of influencing the health of numerous children who became his practice members. Many are referred to him after chronic ear infections have left their parents feeling as if there were no choice but to have tubes inserted. Not a single child has needed to resort to the tubes yet.
Another case involved an autistic toddler who was nonverbal. After a short period of care, he began to speak, and his occupational therapist said their progress was exponentially better after he had received chiropractic. A 13-month-old baby girl who wasn't crawling saw Dr. Jake for an adjustment. Her mom put her on the ground to check out at the reception desk, and the baby started crawling around the entire room!
CHIROPRACTIC CARE »
Find Out More
Are you curious about the positive impact chiropractic might make on you and your family's life? Call or email our chiropractic care center today to schedule an appointment! We're open late for your convenience.

About Flatirons Family Chiropractic | (303) 543-1400