New Practice Members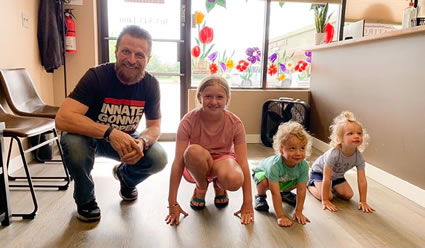 Your whole family will love visiting Flatirons Family Chiropractic. Your kids can be themselves, and you'll even see Dr. Jake and Laura's two sons around from time to time. We keep a laid-back, warm environment that's inviting for all ages. We love getting to know you and can't wait to welcome you!
ONLINE PAPERWORK »

Day One
At your first appointment, you'll sit down with Dr. Jake to talk about your health history and what has brought you to our office. We'll use advanced technology to scan your nervous system and locate any signs of stress or disruption. Then, we'll perform a chiropractic assessment. In total, this visit takes about 45 minutes.
Day Two
When you return, you'll receive a full report of Dr. Jake's findings, including going over your scans and assessment. We'll educate you on what we've found and what it means for you, as well as what we recommend. You'll receive a chiropractic adjustment and be sent home with a copy of your scans and information on what it means to you.
Do I Have to Go Forever?
You wouldn't expect your dentist to give you an exam and cleaning, then tell you that you don't ever have to come back. Chiropractic is a part of a healthy lifestyle, and having regular adjustments will help you maintain your wellness.
Don't want to wait to get the help you need? Contact our friendly team today to get immediate attention!
CONTACT US »

New Practice Members | (303) 543-1400